Chicago's Online Used & Rare Bookstore
We Buy & Sell Used Books and Records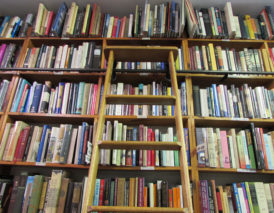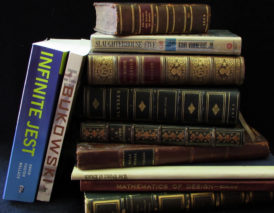 Who We Are
Bookworks has been in business for over 30 years and we actively buy and sell used and rare books, records and old paper items. We offer a diverse selection, both online and at our store in Chicago. If you're interested in selling us material, please click on the BOOK/RECORD BUYING link. If you would like to see what we're currently selling online, please click SEARCH ONLINE CATALOG and ONLINE AUCTIONS. Our website also offers more including our history, links to a few of our favorite shops, reference sites for readers, things to do in Chicago and feedback we've received about our business.
We hope you'll take time to explore Bookworks online.
What We Hope To Do
Bookworks has always made an effort to offer the books and recordings our customers want to buy. We sell items at competitive prices with the hope it will create a website and store that individuals will return to in order to see what we have for sale. Our stock, online and at our shop, frequently includes new arrivals. By pricing fairly and adding new items daily we try to make our business a place you will want to visit and return to.
We also hope to be offered items you're considering selling. Bookworks buys selectively, but we pay very well for the material we can purchase and we're always interested in considering books, records and old paper items you might have for sale.
What Our Customers Say
I've worked in used bookstores for many years, and I want to tell you what every used bookseller in Chicago already knows: Bookworks is the best possible place to sell your books. Now, Bookworks buys very selectively -- as they should. They will only buy books that they believe they can sell. They will only buy books in very good condition. So, it is highly likely that they will not purchase every book you offer to them. However, for what they can/will buy, they will make you the best possible offer out of any bookstore in Chicago, and you should most definitely take it. Also, they will talk to you about your books. Once, they rejected a book I brought in that was written by a popular local author. I asked them if they were certain they didn't want the title, and then explained to them who the writer was, and why I thought it would sell. They listened to me, and offered me $2 for it (which is a really nice offer for a paperback). Also, thanks to their careful curation, their selection is truly great. So it is the best place to shop, as well as sell. The staff is very friendly, unpretentious, and kind. It's not easy to find that kind of help in used bookstores these days.
Stacey S Chicago
This place was a very pleasant surprise. Mostly used collection, but they keep the recently popular books as well. The woman who runs the store (or at least was in there by herself) was super nice and helpful. They have really cool original art in the store as well, made it even more unique.
This is a review of just the VINYL RECORD selection at Bookworks... The record collection here is very nice, particularly the classical and jazz sections. It is not the largest selection of records, but it is very well curated, so although they might not have as many records as shops like Dusty Groove or Reckless, what they do have is all top shelf stuff, both in terms of the condition its in and in terms of the items they have on offer. The owner seems very nice too, so that's another plus.
This place has become my new go-to used bookstore in the city. The staff are pleasant, and they even let me keep my purse with me, though I had to check my Marshall's shopping bag at the counter. The selection is impressive, and they even had good music playing. Plus the price is right; I bought eight books and only spent a total of $30!
This is the cozy little bookstore I dreamed of for YEARS in my childhood! This tiny, low-key shop has WAY more than you'd expect from looking at the narrow facade. The store is long and deep, with a staggering amount of shelving that's stacked to the ceiling with books, plays, anthologies, music... you name it! The shelves are extremely well organized, the staff is quiet but helpful, they're not squeamish about you climbing up on the step stools to take a look at the higher wares, and they have material from EVERY genre imaginable. This store is so small and yet I could spend HOURS in here, and I ALWAYS find something that's just up the alley I was looking for! The staff isn't opposed to your perusing and they'll help you find something specific if you're looking for it - just don't expect them to have a catalog - they can't really keep track of exactly every book they buy and sell on a daily basis. Up front at the counter they've got some neat little odds and ends for you to check out when you purchase your books: buttons, book marks, and the like... The prices are fair and all of their merchandise is in great condition. The ambiance in here is like the bookstore right out of my dreams - quaint, cozy, private, understated, and yet absolutely trendy and comfortable. I LOVE Bookworks - I'll keep coming back when I'm in the area!
The people who work here are so helpful, and they have an excellent selection. I love to spend time in Bookworks!
Awesome customer care. Keeps it real. No flash, no pizzaz just real home cookin. Thanks guys will always be back
Very nice atmosphere and collection. Also some very interesting subjects on their collection.
Great selection of books and the owners were so very helpful. Wonderful place to just take your time and browse
Kimberly W -
Tinley Park,IL
The smell alone is worth stopping in. Old paper... Doesn't get any better. This place is a gem hidden in Wrigleyville. My absolute favorite bookstore in the city. They have tons of vintage paperbacks, first editions, and an excellent selection of older children's books. Bookworks, I love you. I highly recommend this store to anyone who appreciates the tangible history of an older book. The staff is always knowledgeable and friendly, and the music that is playing softly in the background adds to the ambiance. If I had to choose a bookstore in which to die, then this would be the place I would want to haunt for eternity.
Matt S Chicago